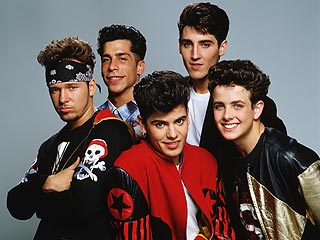 (Thanks, Jess, for the info!)
So
People
magazine is reporting that
New Kids on the Block
are getting back together.
Wow.
Okay, dorky admission time... once upon a brief time, like most of the girls my age, I adored them. I had all of their tapes (tapes!), posters on my wall, buttons on my jacket, and I saw them in concert at least twice. Donnie was my favorite. I even dressed up as him for Halloween... with a shirt that said "Home Boy" and a peace sign around my neck. LOL.
So yeah, I'm really amused that they're getting back together. Too funny. A bunch of 35-to-40-year-olds dancing around, calling themselves "New Kids"... tee hee. I can't wait. I'm making my friend Jess promise that we will go see them in concert (if it comes to that). I'll have to dig out my buttons...